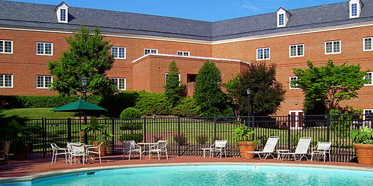 Secluded on 28 acres at UNC in Chapel Hill, North Carolina, The Rizzo Conference Center near the UNC Campus is a sophisticated meeting and lodging destination. Located near Research Triangle Park (RTP) and the Raleigh-Durham International Airport, the Center is a convenient destination for conducting meetings and business.
Conference and meeting facilities at The Rizzo Conference Center feature state-of-the-art technologies, including high speed wired Internet and wireless capabilities. The Rizzo Conference Center's meeting space meets the standards of the International Association of Conference Centers. The elegant and comfortable guestrooms are tailored to accommodate the needs of the modern day business traveler. Accommodations include the comfortable, well-appointed hotel rooms in McLean Hall or the suites and hotel rooms in DuBose House. The DuBose House is a historic Georgian Revival home that offers both elegance and sense of comfort, similar to a traditional Chapel Hill bed and breakfast. A site in and of itself, The DuBose House is also on the National Register of Historic Places. The guest rooms in McLean Hall boast a blend of comfort and elegance with the high-tech, unique requirements that are definitive of an upscale executive conference center.
Location Summary
Chapel Hill is part of Durham, Orange and Chatham counties, and serves as one of the corners to the Research Triangle Park. Filled with both history and charm, Chapel Hill offers a wide variety of area attractions and recreational activities for visitors. Rizzo Conference Center hotel guests are encouraged to explore local attractions, dining options, museums and shopping. Get a taste of Chapel Hill when you explore the quaint Meadowmont Village, home to boutique shops, cafes and offices. Or, indulge your inner art enthusiast with a visit to the Ackland Art Museum. Whether in Chapel Hill for business or leisure, the town has something to offer everyone.
Directions to Hotel
5 minutes from Raleigh-Durham International Airport.